say hi to_ Design Parade 2017
So each year gone by, I have been a bystander watching images from friends and colleagues, go by across my social media channels from the famed 'Design Parade', held annually by Villa Noailles in Hyères and Toulon located in the South of France (one of my suggested Creative Vacations for Europe. See article here). I was delighted to be invited this year to discover it myself. After 24 days straight of back to back projects in a killer heatwave in Paris during June; I couldn't have been more pleased to close down my laptop, throw my ray bans and espradilles in a bag and head down to Gare de Lyon to catch the train down south.

I visited Villa Noailles the first time a few months ago where all of the participants of Design Parade Toulon presented their proposed projects. After a weekend spending time with the young designers and hearing all about their projects, I was more than curious to see how their (sometimes very) rough sketches materialised into life size rooms and sets.

If you are not familiar with Villa Noailles Design Parade - it is an annual event which consists of two contests for up and coming talent in the realm of design held between two adjacent seaside cities in the South of France as well as a series of installations around each city for guests to discover. The first contest, 'Design Parade Hyères', is a contest between Object and Furniture Designers who propose and showcase a specific object series at the Villa Noailles. The second, and newer of the two contests, is the 'Design Parade Toulon', which gives up and coming Interior Architects and Designers a room, to bring a specific concept to life around a central theme.

Have a look at what I discovered from each contest and the winners!
where?
Hyères + Toulon, France
dates
June 30 - September 24, 2017
I. Design Parade Toulon | Interior Architecture
The Finalists
Paul Brissonnet and Alexandre Benjamin Navet, Mariam Bouchamane and Margot Cosyn, Mark Daovannary, Alice Louradour, Samuel Bégis and Caroline Charrel, Martial Marquet, Valentine Martin, Mathieu Menager and Caroline Menager, Nastasia Potel et Mylène Vasse, Catherine Ronziere and Pablo Figueroa, Emmanuelle Simon, Mathilde Vallantin Dulac and Victor Levai
Grand Prize
'Imajaghan'
Paul Brissonnet and Alexandre Benjamin Navet
I met Paul a little over a year ago in one of my local cafés Hotel Amour. I was so impressed with his extremely in-depth knowledge of Design (he is seriously like a design encyclopaedia) and humble nature. I was super excited to see his name on the list this year while heading down to Toulon, to discover all of the projects, as I had never actually seen any of his own work before. When I arrived I was introduced to the bright and fun (not to mention best dancer of Design Parade this year tied with Matylda Krzykowski) Alexandre Benjamin Navet, the artists whose playful illustrations brought this room to life.

The mission was the create a room around a central theme of 'The Mediterranean'. The duo translated this by taking elements of a typical Parisian Hausmannian apartment, such as the fireplace and large white walls and introducing notions borrowed from Nomads of Maghreb, with sand Dunes and what lies beneath them. They wanted to create a space to stimulate research and new forms of creative expression for artists. If you sift through what seems like a mere sandy floor, you will find hidden items necessary to everyday life. The ever evolving possibilities of the sand dunes and what can be found within them, encourages one to find multiple ways of living and working.
Eyes on Talents and Frame Magazine Award
'Tool One' Dining Room
Martial Marquet
If you are reading this you most likely already know my style and taste in design. I am sure this comes as no surprise that I was immediately drawn to the contemporary forms and interesting use of color and texture in Martial Marquet's conceptual take on a dining room meets workspace. I loved the idea of combining functions of space as well as the abstract touch to the traditional role of a specific room.
City of Toulon Public Prize
'La Chambre sur l'Eau' Bedroom
Emmanuelle Simon
I know that I usually highlight and love design that is experimental, outrageous and sometimes completely impractical but when creating a home, it is the utmost importance to balance art with creating a cozy space one would actually want to spend time in. Especially concerning the bedroom.

Emmanuelle not only has impeccable and forward thinking ideas and taste, but knows how to translate that into realistic expectations of a room. Set in a natural palette, the viewer is able to delicately focus on the attention to detail and well thought out concepts throughout the breezy and chic space.
II. Design Parade Hyères | Design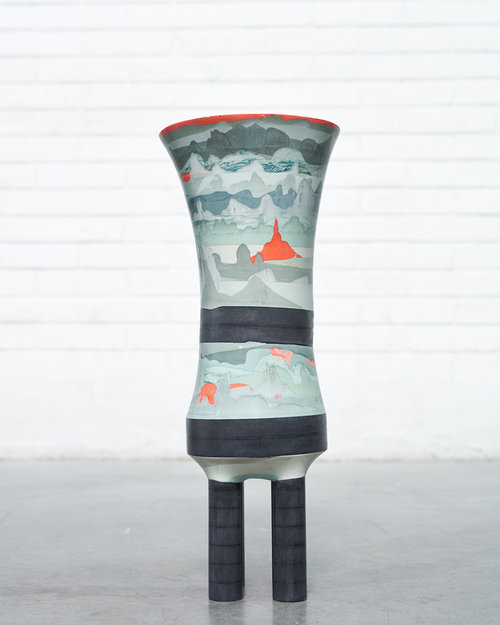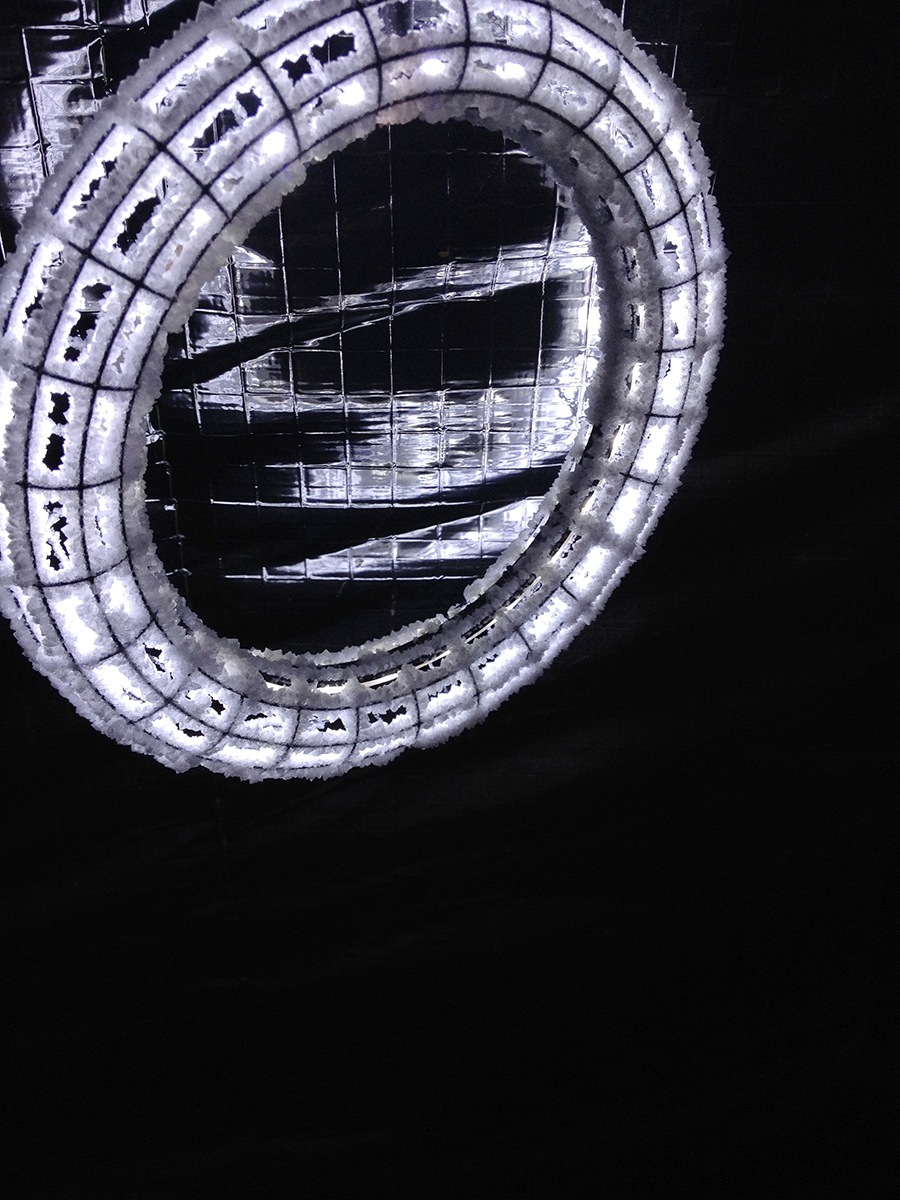 The Finalists
Léa Bardin, Pauline Capdo and Luis Bellenger, Lisa Ertel, Arthur Hoffner, Florent Jullien, Jenna Kaes, OS & OOS, Carolien Niebling, Döppel Studio, Ragna Ragnarsdottir
Grand Prize
'Future Sausage' Sausage
Carolien Niebling (NL)
Although not quite my area of expertise in design, I must say that Carolien Niebling's extremely well researched and interestingly illustrated project around integrating other elements into the classic 'meat sausage' to efficiently create something more nutritious. I loved that she did the research to figure out which foods and vegetables would be able to be integrated into the sausage using the specific machines that all butchers already have on hand. Carolien brilliantly discovered a way to integrate other vitamin rich foods into an everyday sausage to create a more well balanced meal.
Eyes on Talents x Frame Magazine Award
'Main d'œvre' Containers, Mirror and Bench
Ragna Ragnarsdottir (IS)
Okay, so when I stepped into the room and saw these marbled resin beauties, created by Ragna Ragnarsdottir, I had to stop in my tracks. I felt that the series was well balanced in being in line with contemporary trends in design, with atypical notions towards ancient Greek pottery and most interestingly, Ragna's unique handmade process which she has developed to create them. It can be sure I will be keeping a close eye on Ragna, as I am sure this is just the first taste of what we will see coming from this Icelandic talent in the coming years.
City of Hyères Public Prize
Être ou ne paraître' Water Fountains
Arthur Hoffner (FR)
I had seen images of Arthur Hoffner's work before but it was really something else to see them in real life. It was hard for me to imagine these surrealistic take on functioning fountains and I adored discovering them in person. As Arthur mentions in his artist's statement, "Deprived of it's primary purpose, indoor water fountains have become obsolete objects, even a kitsch cliche" which certainly rings a bell. With that being said, what is more peaceful than the sound of trickling water? I love that Arthur not created beautiful forms and sculptures but also that the fountains are suspended or carefully balanced in a way that the viewer is not able to grasp the way they are working technically.
Villa Noailles
Montée Noailles
83400 Hyères
France
Opening Times
Open everyday except Tuesdays and National Holidays from 2pm to 7pm
Fridays are open from 4pm until 9pm