say hi to_ Block Shop
I had been aware of the work of sisters Hopie and Lily Stockman, the duo behind LA-based Block Shop Studio, for quite some time but it wasn't until I paid a visit to their studio that I learned about the breadth of their product offering and design aspirations.
Starting with producing a handful of block printed scarf designs in 2010, Block Shop has grown into a hugely popular design studio producing wearables and home goods featuring their signature geometric designs, as well as offering workshops for those wanting to learn the block printing process first hand.
Their studio space in LA is nothing short of dreamlike, serenely decorated and situated on an upper floor of a high rise downtown - giving one the feeling of floating in a design oasis up in the clouds.
Read below to learn more about the formation and evolution of Block Shop from my chat with co-founder Hopie Stockman.
| Leah | Can you tell me about the inception of Block Shop?

| Hopie | Block Shop really started as a passion project in 2010 when my sister and her husband were living in Jaipur for a year. Her husband was in the Marine Corp and they decided when he got back from Iraq they were going to do something crazy so they both applied for Fulbright scholarships - he was studying water distribution in India and Lily is a painter and she was studying under an Indian painter and that's when she really fell in love with the ancient tradition of hand block printing with natural dyes. It was really organic; she was there painting and engaging in these beautiful ancient techniques and a textile historian friend introduced her to Vijendra who was this incredibly entrepreneurial Indian businessman who came from a family of five generations of block printers.
 
At the time he was juggling a lot of things to support his family and the local demand for block printing was sort of waning so he couldn't really find a reason to keep this business going. When Lily met him they started collaborating on these big scale geometric designs and she was really thinking of them as paintings because she's a practicing artist. She would send pictures of what she was working on to me and I was showing the images to my friends and everyone was responding well to them and so Lily and I thought that maybe we should place an order and just think of these as scarves or wearable art and just see what happens. I went over to India six months after she got back, so this is still in 2011, and I talked to Vijendra about going into business together.

I had come up with a really basic business plan that was all rooted in preserving this ancient art form and really celebrating these incredible artists who have been doing it for centuries. We were envisioning sharing with our customers, which at the time were our friends and family, the stories of the people that are actually making this thing that you're wearing and how incredible the hand block printing process is. Vijendra loved the idea - he was so excited and he was looking for an international market and so the whole thing was really born out of this wonderful relationship with this family of printers that Lily and I have become super close to.

That's how it started - we placed an initial order and built a really basic web site and I think we had five scarf patterns when we launched.
| Leah | What drove the expansion into the home goods market?

| Hopie | We work with a cooperative that Vijendra organized and their skill set is really in printing fabric. We work with other families to do the stitching work, but kind of the whole industry there that we know and are close to is focused around home textiles; that's what they know how to do and what they're really good at. So that was an easy way to begin our focus and then just naturally in terms of our interests and what we feel like we know we progressed into home goods. It just felt like a really natural extension; we basically just designed stuff that we like which is why we migrated into rugs.
It took us about a year to find a family of weavers that work in a really similar way to how Vijendra and his family work. The rugs are woven by hand by a separate co-operative, everything is hand dyed and hand woven and it took us two or three trips to India to find this family. It's really hard to find the actual artisans without working through a middleman and so that's what we were focused on. This cooperative has hand woven all of our rugs; each rug takes about three months to make, each quilt takes two to three months to make, the scarves and the pillows take about a week to print and then another week to stitch the pillows so everything is really beautifully hand crafted.
| Leah | I would love to hear more about how you work with your sister. How does your creative process work and do you both wear different hats in terms of your roles in the business?

| Hopie | We actually both have studied painting forever; Lily went to grad school for art but I've painted my whole life. We had a childhood of creating little worlds together. We grew up on a farm and we would build forts, we developed a currency system by this river, we had a stationary business together as kids - we really loved creating a world together and I feel like Block Shop is some sort of weird adult extension of our make believe worlds that we use to create.
 
We design together and it is best when we do it together. We've both phased in and out at times - I just got married, Lily had a baby - we can pick up the slack for the other person without batting an eye but our best design process is when we both sit down together and turn off our screens. We have this great library of textile books and that's where we start. I like to open a book and go through each page and just focus on, for example, Anni Albers weavings or beautiful Navajo weavings and just really think about patterns and design. The other way we love to get inspired is just walking around our cities; we love the old movie palaces in downtown LA and old city Jaipur is just bursting with beautiful architectural motifs. There is an art deco pattern on the sidewalk on Broadway which is right outside our studio that inspired a new rug design. We both paint and everything starts with watercolor paintings.
| Leah | Because you're producing so far away, how do you bring these designs to life?

| Hopie | We bring our paintings with us in our hands when we go to India.
| Leah | So you're very hands on in the process!
| Leah | How much does the traditional craft of block printing play into the way you think about your designs?

| Hopie | So much. That's why we love going to India so much because our printers over there are true masters and are so good at color and pattern and design. We'll bring our sketches and then Vijendra will be like - I think you need to switch this triangle around. The craftspeople we work with are so are essential to the whole design process.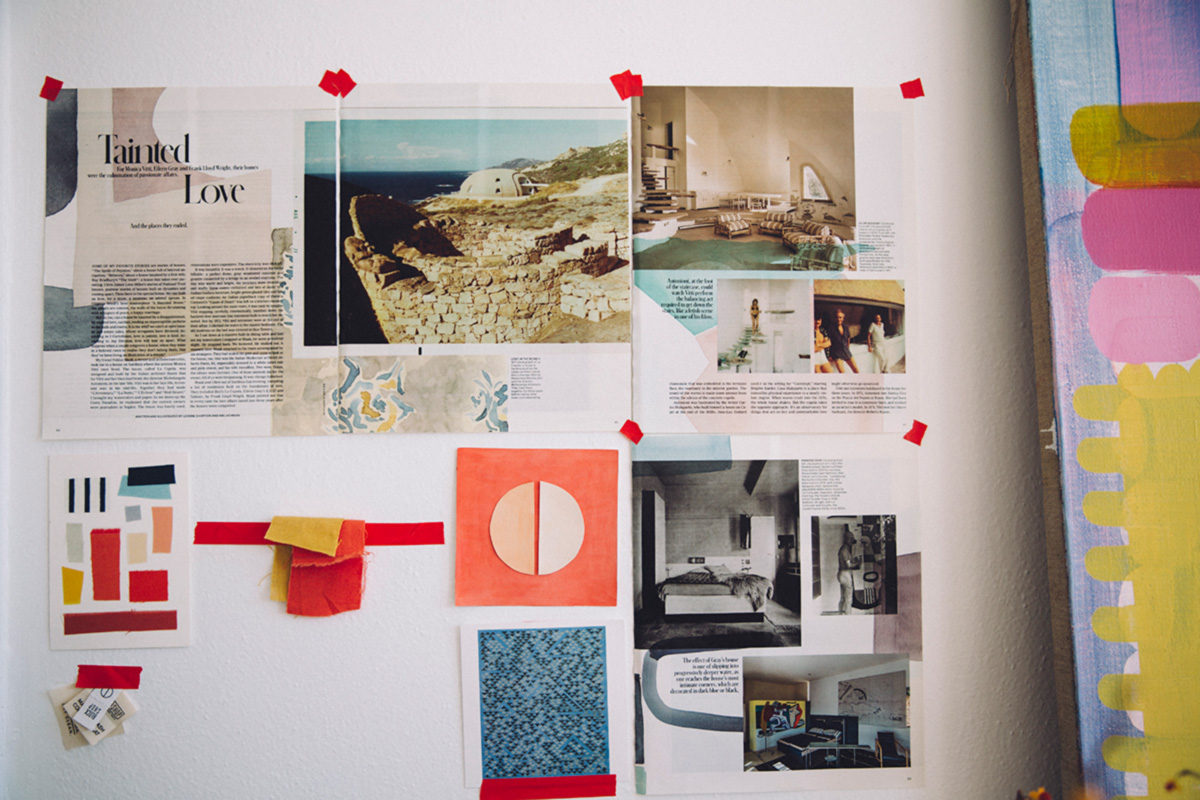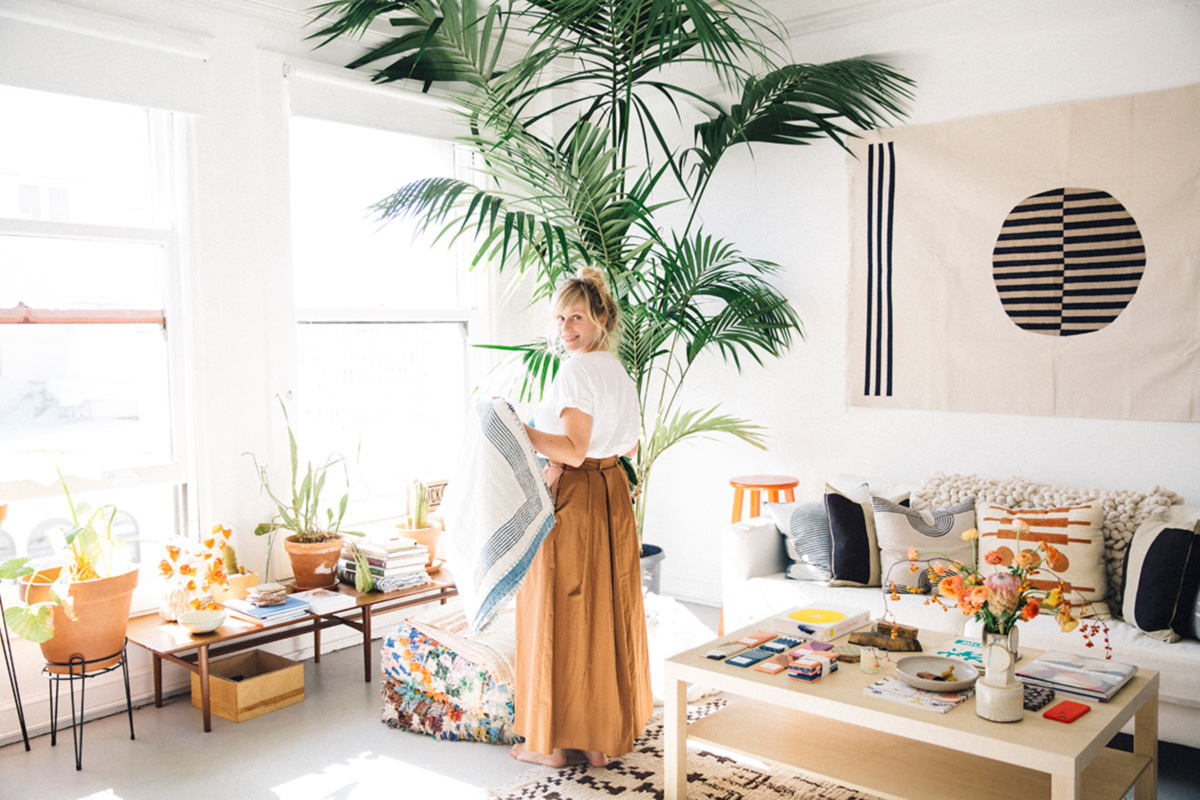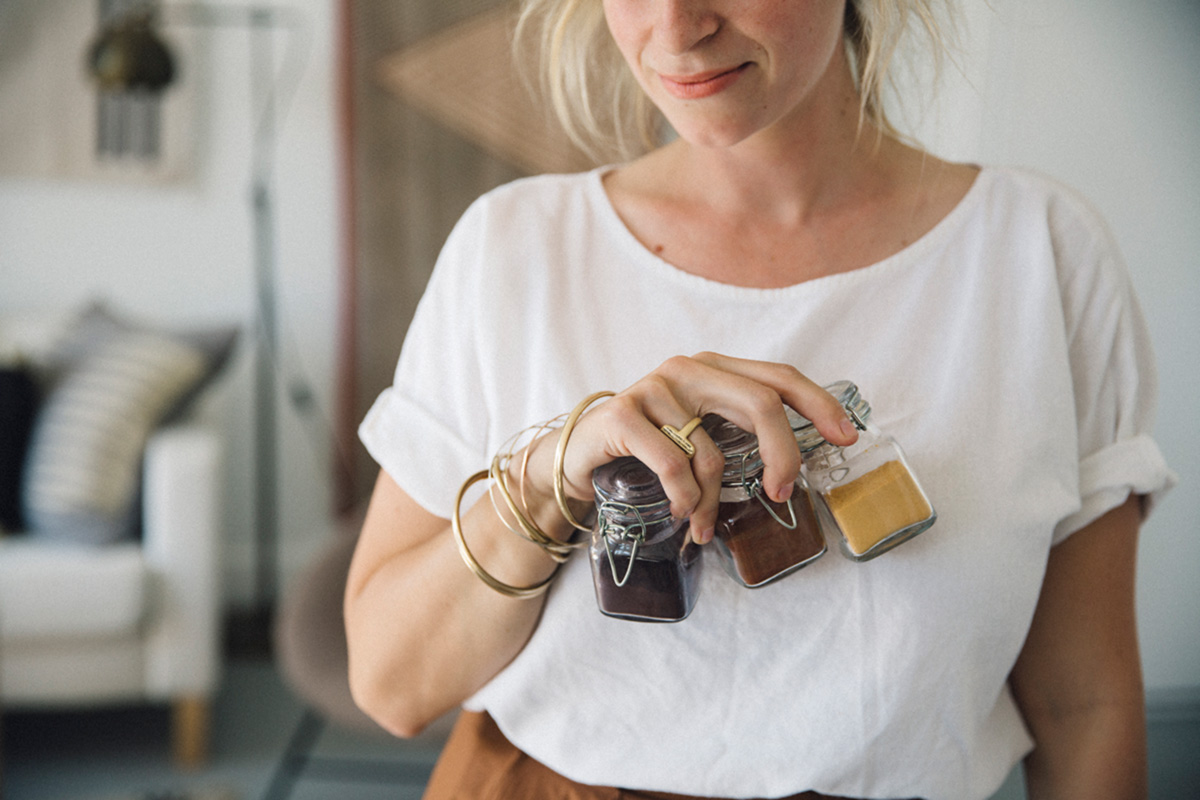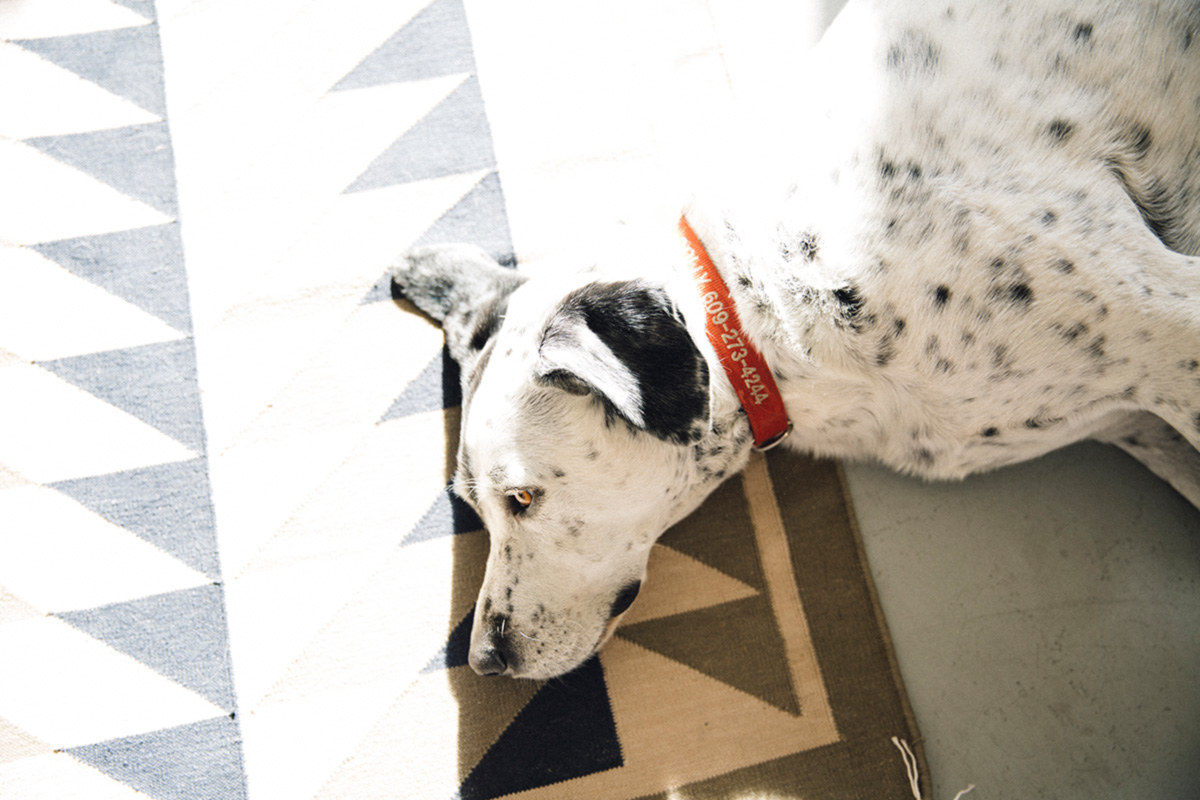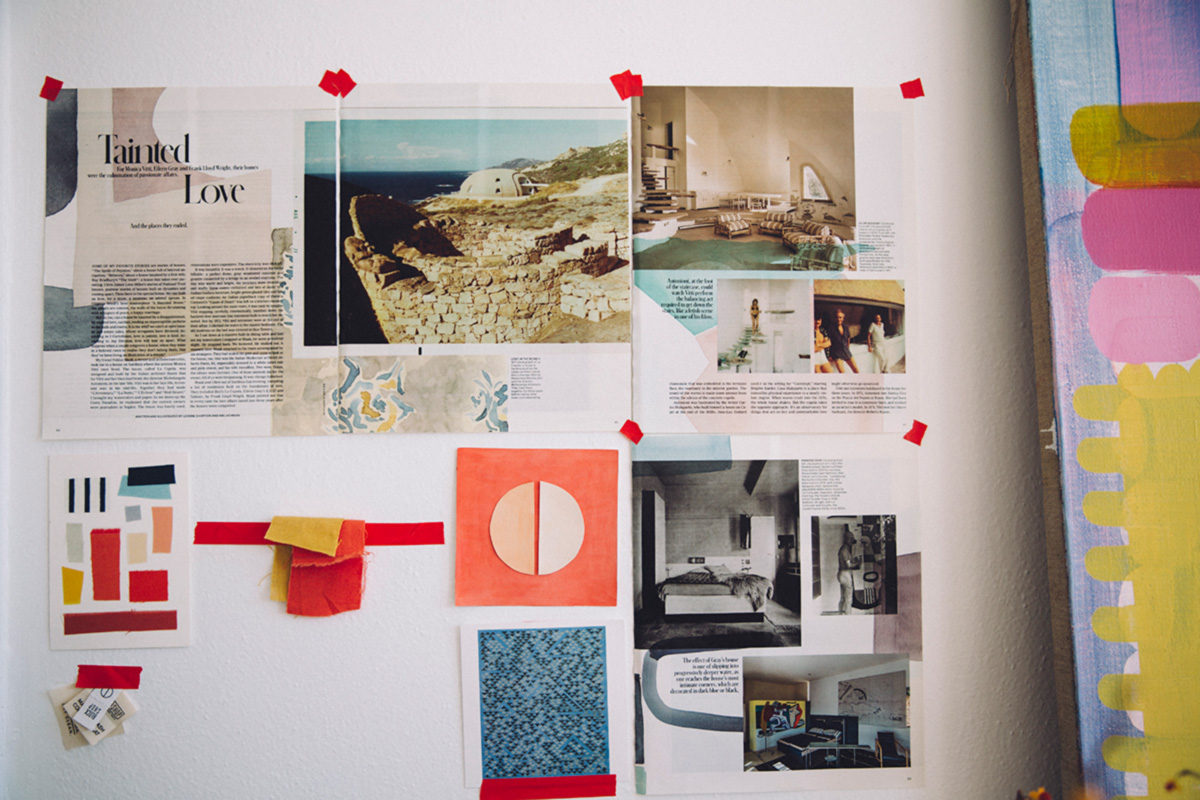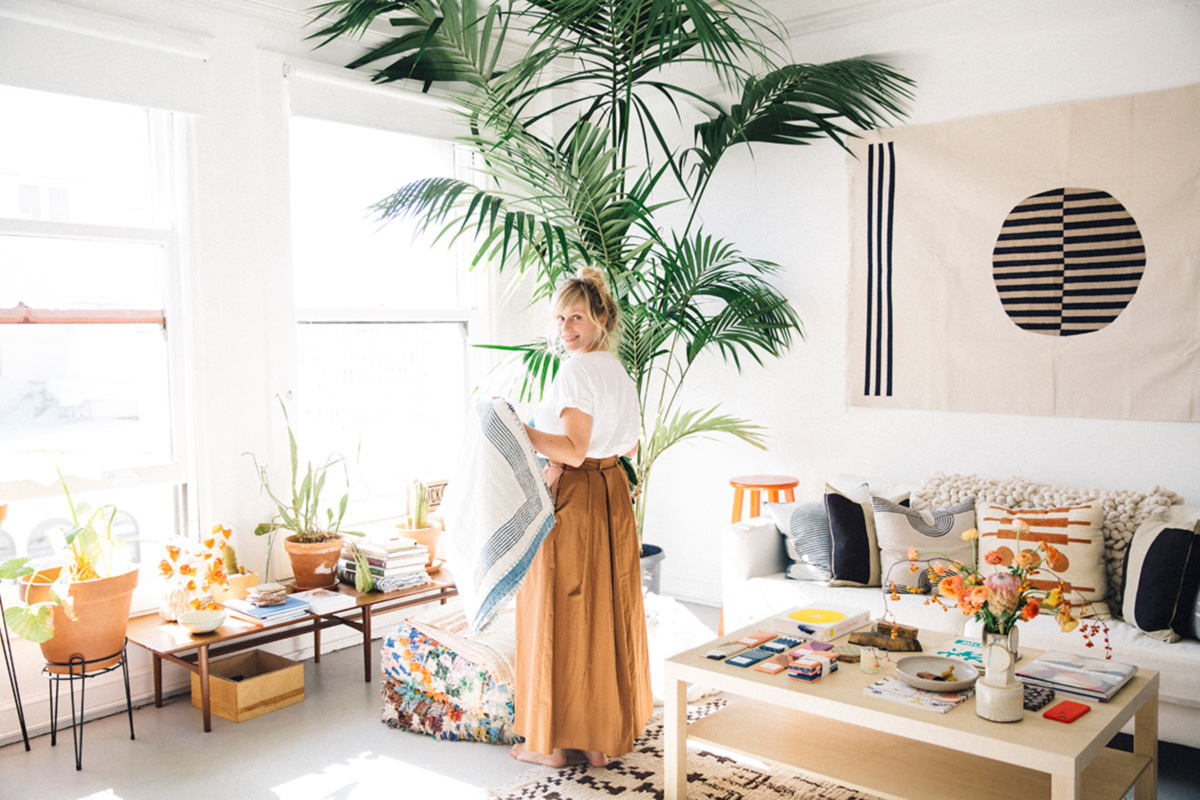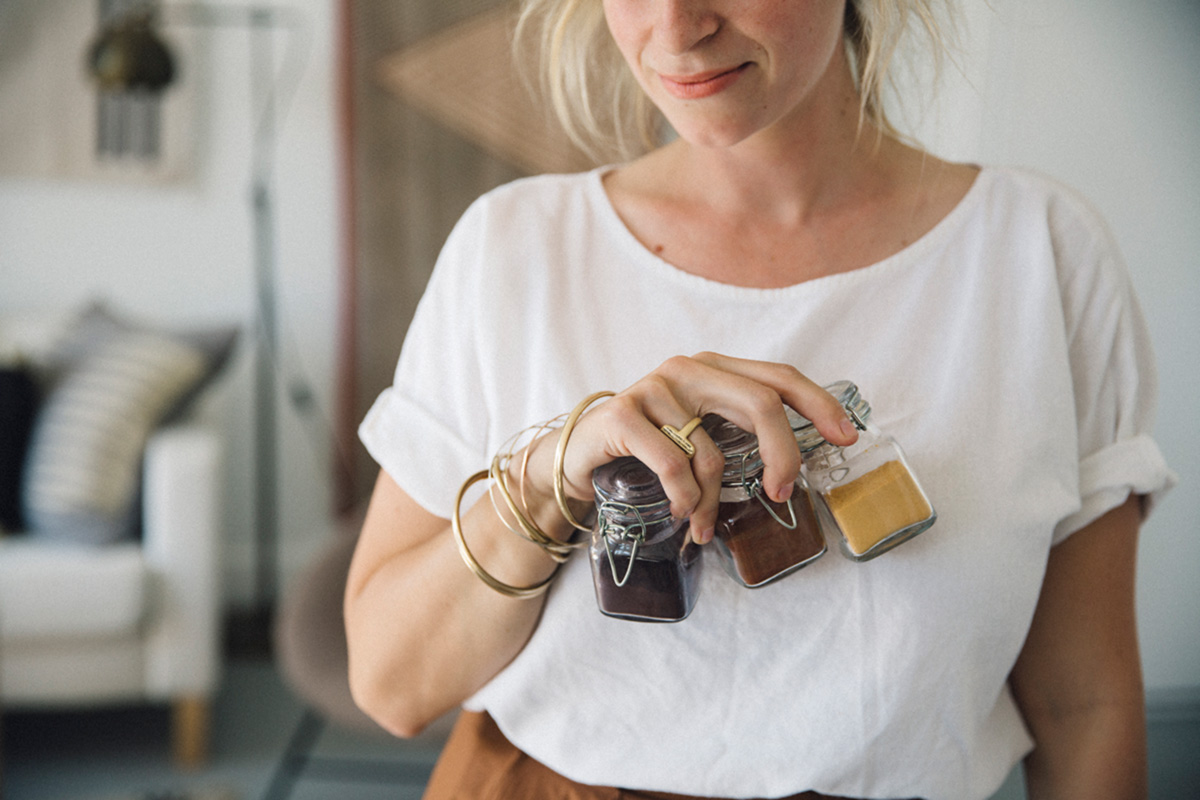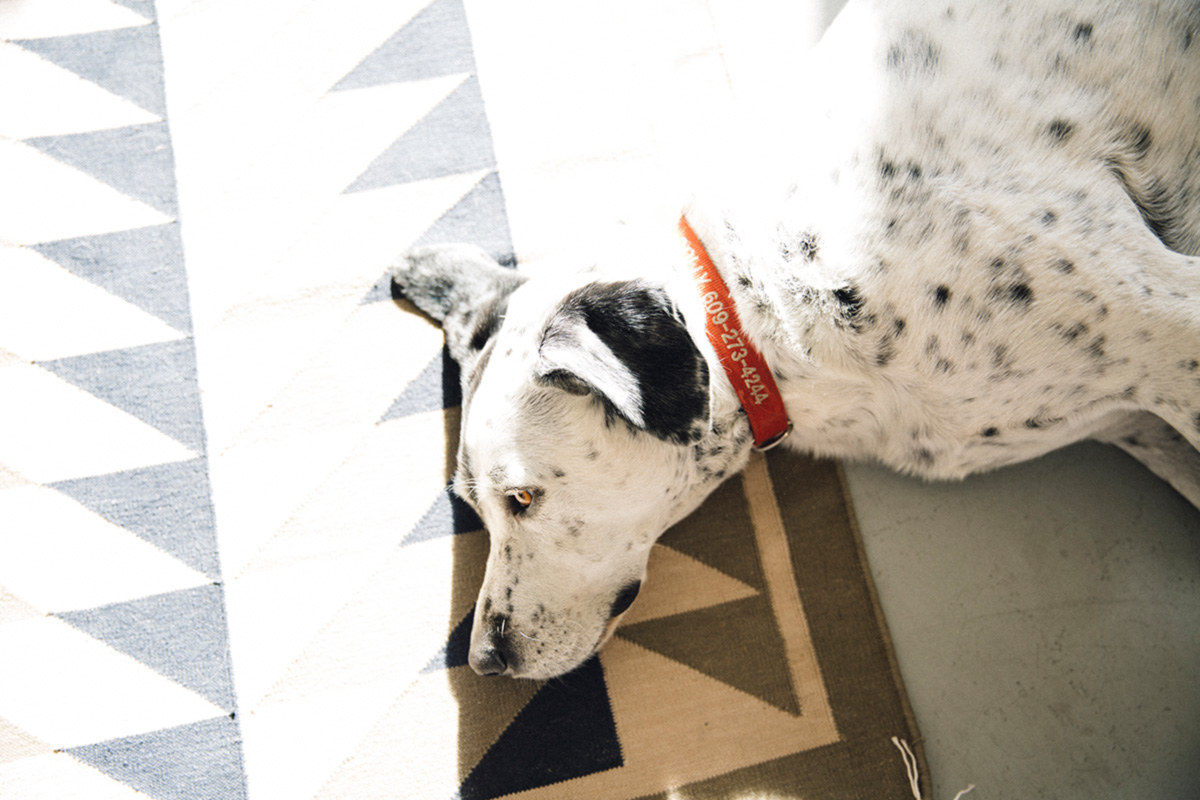 | Leah | I would love to learn more about the social component of your company.

| Hopie | Five percent of our profits go towards community health care initiatives and each year we come up with a new focus and every initiative is based on a needs assessment that we conduct.
We work with 18 printers in Bagru, India so the broader community is about 200 people, and the community includes the children and spouses of the printers we work with. We have a wonderful community manager, Sonia Jain, whose background is in community work in rural India and through working with her and by doing needs assessments we were able to determine that health care seems to be the biggest infrastructure gap as there is no primary health care in the community we work with.
We have developed different types of initiatives each year - we've installed water filters, we've provided cataract surgery, provided glasses for people and now the doctors are coming regularly from Jaipur and that's kind of set up and self sustaining which has been awesome. Now it's expected that twice a year the doctor will come and everybody gets a general checkup and preventative medicine. So now what we're really excited about, with Sonia's help, is focusing on women's empowerment in Bagru so that means everything from bringing doctors in to educate people about specific issues pertaining to women's health and childbirth and also financial literacy - how to save money, how to set up their own savings accounts. Each month we have a different program and we have a women's group that comes together once a month.
| Leah | You live in LA but I know that there's a connection to Joshua Tree - can you share the Joshua Tree story?

| Hopie | Joshua Tree is where Lily and her husband have a cabin and their connection to Joshua Tree actually goes back 10 years. When Pete was stationed in the Marine Corps he was at 29 Palms and Lily, as an artist, was like - I'm not going to live on a military base, we're going to live in Joshua Tree with the artist community and just embrace desert life. So they were living there that long ago and ended up just falling in love with Joshua Tree - Lily really connected to the community of artists out there.
So years later they'd been scouring the market to buy a place and they bought this cabin in Joshua Tree before they knew even where they were going to live permanently. I remember Dave, my now husband, and I went and looked at it for them and we were like - don't buy this, it's so much work, it's not a good idea - and they went out and they're like - it's perfect - and they bought it and they fixed up the whole place themselves. It's really lovely and that's where we host our workshops.
| Leah | I'm curious to hear your perspective on how both Joshua Tree and Los Angeles influence your design process because they're both really creative communities but are very different.

| Hopie | The way that we're able to focus on our designs when we're in the desert is really unlike anywhere else because it's quiet. When you have the physical space I think it can create the emotional space needed to get in the zone and design stuff. We love designing out there - we love the palette, we love the ochres and the dusky pinks and the bright blue sky and all of the colors of the boulders are really inspiring. In LA, like I was saying before, the architecture of downtown we love so much. Both places are gentle to us and you know, LA has its traffic and its issues but this is our little haven in our studio. Both here and Lily's cabin in Joshua tree are really calming environments and both are good creative environments for us.


| Leah | What are your three favorite spots in Los Angeles where you go for inspiration?

| Hopie | Walking down Broadway between 4th and 9th - that strip of Broadway is our favorite. I hike in Mandeville Canyon with Otto all the time so that's my personal zen area of happiness.

We also love all of the industry and fabricators downtown - even driving from here to the flower market or to the fashion district or through the jewelry district - it almost feels like being in India where you can be in such close proximity to things being truly made. We love that about this part of town.
| Leah | Are there any particular artists, not necessarily visual artists, but any artists that you admire or that have inspired you to pursue a creative path?

| Hopie | There are a lot - there's a long list. My personal favorite, who does something completely different but who I feel super connected to, is Beatrice Wood.

She was a ceramicist and she built this whole incredible world in Ojai. She was a muse to the whole Dada scene and was this incredible, larger than life character. She actually had this deep connection to India and collected Indian textiles and pottery and had a guru who was Indian. Her studio in Ojai is one of my favorite artist studios that you can go and see and all of her ceramics and paint and everything is still perfectly lined up so you can look at how she was working in the studio. I love the playfulness with which she designed and created. She's a woman who completely lived by her own rules and defined her life the way she wanted it to be and was really successful.

So Beatrice Wood is one of my favorites but there are many that inspire our work. Anni Albers was kind of the first artist to present textiles as works of art that could hang on the wall so we owe so much to her.
| Leah | What's your dream project?

| Hopie | We love designing textiles. We love every part of the design process. We love creating worlds like I was saying before. I envision someday doing an incredible boutique hotel in some crazy desert landscape in head to toe Block Shop - we make the headboards, we choose the paint colors, we make every textile, we do a giant mural - that would be a dream project.
| Leah | Can you share what's up and coming from Block Shop? What do we have to look forward to?

| Hopie |We will always have pillows and scarves and rugs in rotation. We have these really beautiful, very modern Kantha quilts that are coming out which I'm excited about but the most exciting thing are the paper prints. The way that these came about was that our customers were always asking us how they could frame and hang their textiles, so we thought - why don't we just make something that's truly framed and is a one of a kind print. What's amazing about this paper is that it's made by a family of paper makers whose factory is next door to a textile factory and they take all the cotton scraps from the textile factory and squish it into pulp and make this beautiful recycled cotton rag paper.
We're working with this amazing company Simply Framed, which is a woman owned business. We realized that we would buy prints all the time and would never get them framed and then if we did get them framed it was cheap framing job. So for these prints, we teamed up with Simply Framed and are using gallery quality, beautiful frames and we used a shadowbox floating option that works to really highlight that raw natural edges of the prints. Those are coming out in August and we're launching them at Rachel Comey in LA and we're really excited about it!